The difference between WordPress.com and WordPress.org is probably one of the most common sources of confusion for the beginners.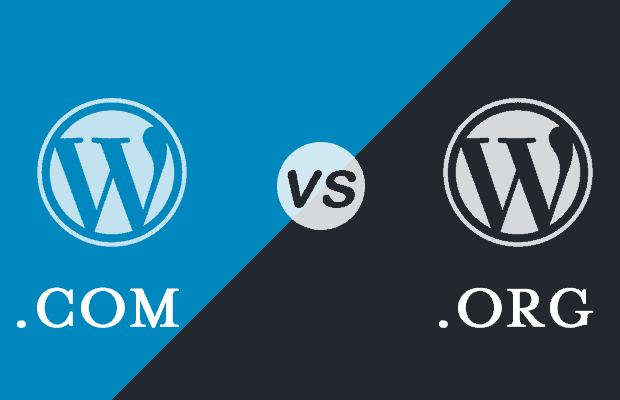 Which one should you choose when creating your own website?
Both have the same name and are based on the same piece of software.
However…
There are also striking differences. So that choosing the wrong one will have serious consequences for your site and its future.
To help you make the right choice, in this post we will take a detailed look at WordPress.org vs WordPress.com and the difference between them.
What is WordPress and Why Should You Use It at All?
Before getting into the differences between WordPress.com vs WordPress.org let's quickly go over what exactly WordPress is and why it's a good idea to use it.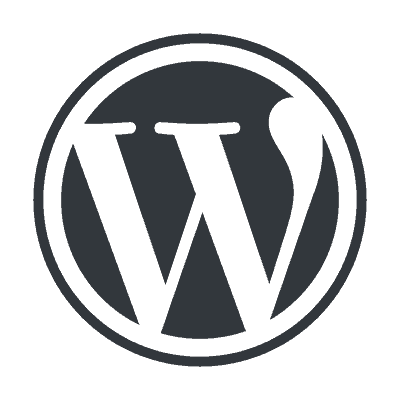 WordPress is an open source content management system or CMS for short. That means it's a piece of software that you can use to create and manage websites. The platform is free because it is an open source – it's maintained by volunteers around the globe and not owned by a company. Both WordPress.com and WordPress.org give you access to it.
WordPress is not the only content management system. There are others out there such as Joomla and Drupal or website builders like Wix.
However, it's by far the most beginner friendly solution. It's no more difficult to build a website with WordPress than it is to use Facebook or Microsoft Word (even easier as I would argue).
The system is suitable for any kind of website. Whether you want to build a small business site, an online portfolio, blog or website, WordPress has you covered. Even online shops, forums and mobile apps are not a problem.
Additionally, the platform uses modern and reliable technology like PHP and SQL and can easily create sites that are mobile and SEO friendly.
At the same time, WordPress is scalable and can handle large amounts of pages and traffic. How else could it be the fastest growing CMS for the past eight years and power sites like CNN, Mashable, TechCrunch and other notable users?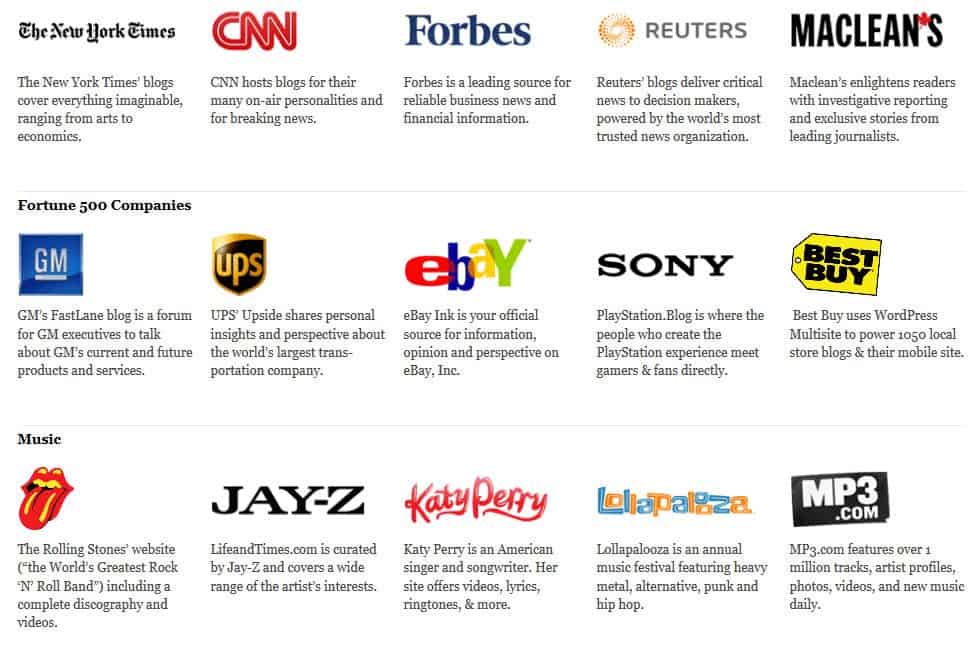 Those reasons have made WordPress the market leader in the CMS sector. Consequently, it currently powers 30 percent of the Internet and its market share continues to grow.
Convinced? Ok, then let's get to the main part of this article.
WordPress.com vs WordPress.org – What's the Difference?
Now that you know why using WordPress is a good idea, let's look at which version of WordPress should you use.
Hosted vs Self-hosted WordPress
People often confuse WordPress.com and WordPress.org (which is the main reason for this article). Because of that, we first explain the principal difference between them. After that, we will move on to what that means for your website.
WordPress.com
WordPress.com is a platform created by Matt Mullenweg and his company Automattic. Matt is also the co-founder of the WordPress software, which is another reason why the whole WordPress.com vs WordPress.org thing is so confusing. To make matters worse, Automattic is also a big contributor to the WordPress open source project.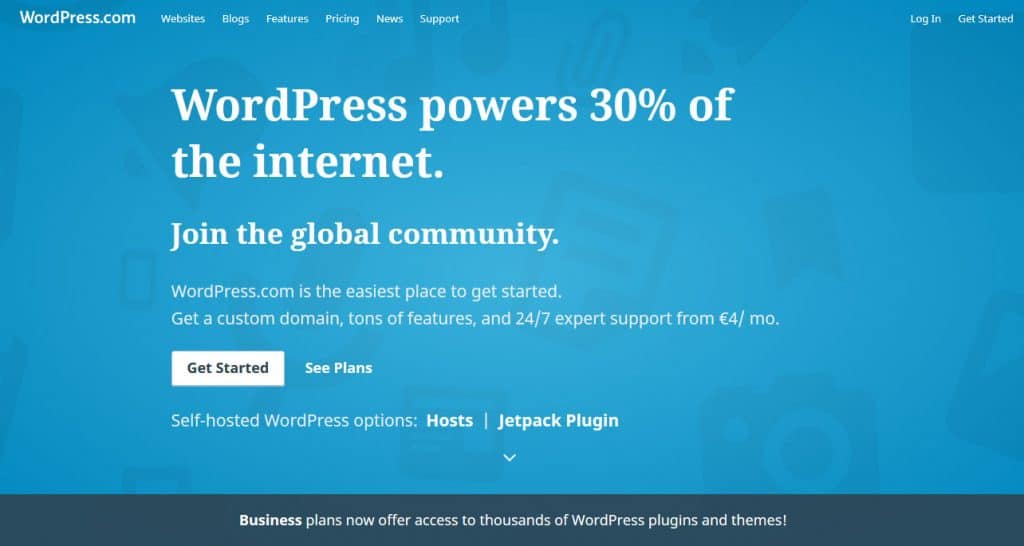 WordPress.com is not the same as the software and it isn't even the owner. Instead, the platform is a hosting service. Similar to Tumblr, Blogger or Medium, they allow others to create their own web presence hosted and maintained on Automattic's servers. Only, they use WordPress as the software running the show.
WordPress.org
WordPress.org, on the other hand, is the home of that software. The site is managed by the non-profit WordPress Foundation. When someone speaks about "WordPress", that's usually what they are referring to.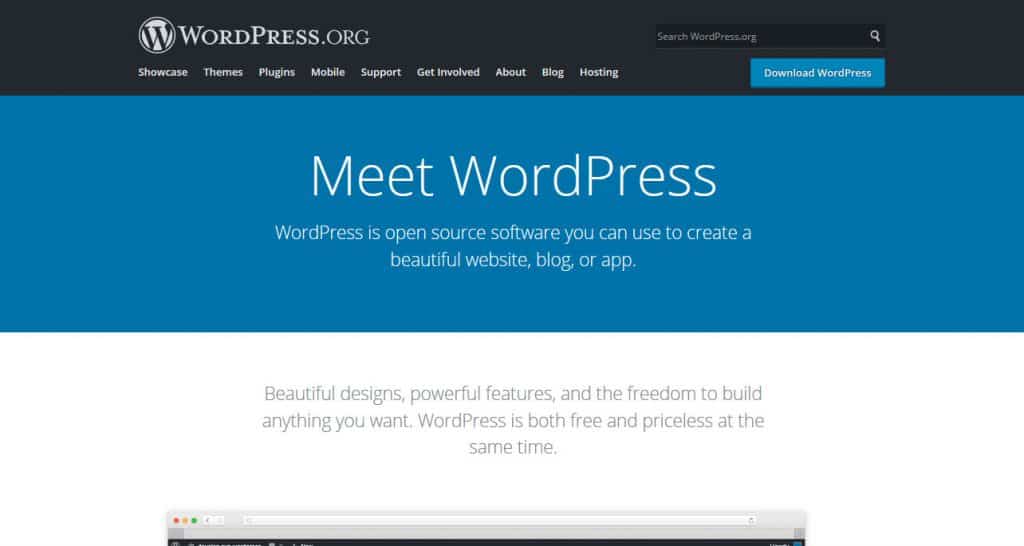 At WordPress.org anyone can download WordPress and use it for whatever purposes they want. In contrast to WordPress.com, you can not create a site on their servers. Instead, you need to take care of that yourself.
That means, you need to find your own hosting provider and acquire a domain to install your WordPress site on. For that very reason, WordPress.org is also often referred to as "self-hosted" WordPress, while WordPress.com is called the "hosted" variety.
That is also the main difference between WordPress.com and WordPress.org: Who hosts your site. In one case, it's a company, in the other it is you. The software used to power your website is the same. Each arrangement has its benefits and downsides. We will discuss those now.
How Much Does a Website Cost on Each Platform?
What's confusing in the WordPress.com vs WordPress.org debate is that both ways of creating a website are touted as free. Be aware that there are still costs involved that will differ depending on which option you choose.
WordPress.com
In the case of WordPress.com, "free" only applies to the limited basic plan. When you choose it, you get your own site on a WordPress.com subdomain (e.g. http://yoursitename.wordpress.com), access to dozens of free themes, basic design customization options and 3GB of storage space.
If you want more advanced features (such as your own domain name), you will have to pay for them:

Prices for the regular plans range from $48 to $300 a year. Additionally, there's also the VIP service for enterprise websites. That one starts at $5000 per month.
If you plan to blog for yourself as a hobby or just test the waters, the free plan is absolutely sufficient. However, if you want to move towards a more professional website, you will have to reach for your wallet.
WordPress.org
With the software from WordPress.org, you can build as many websites as you want for free. Nobody is going to charge you for it. There are still expenses involved with running a self-hosted WordPress site. Mainly, the aforementioned domain and hosting space.
In general, they are all quite affordable. For example, with Bluehost you can start a WordPress site for as little as $2.75/month. This includes a domain name which is usually about $10/year (learn to pick the right domain name).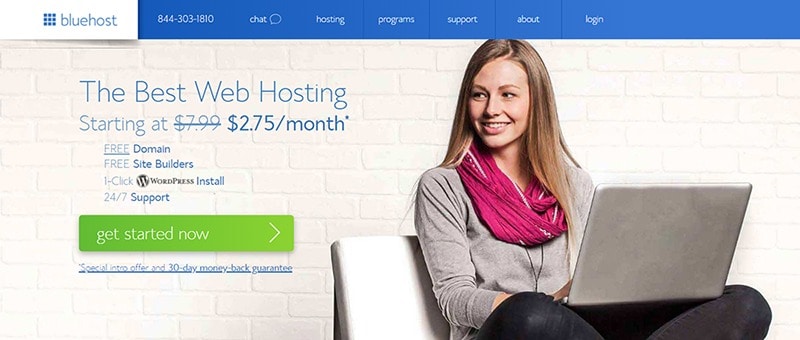 Consequently, you can have your own self-hosted website starting at $40/year (including taxes). That is not only cheaper than WordPress.com but also comes with a lot more possibilities as you will see below.
Be aware, that as your site grows, so will your hosting costs and it's up to you to shoulder that. If your goal is to earn money with your site, when you get to that point, your website is likely already paying for itself.
There are other optional expenses that come with a WordPress site such as premium themes and plugins. While WordPress offers a lot of free stuff in the theme and plugin directory, it still makes sense to spend money on certain features.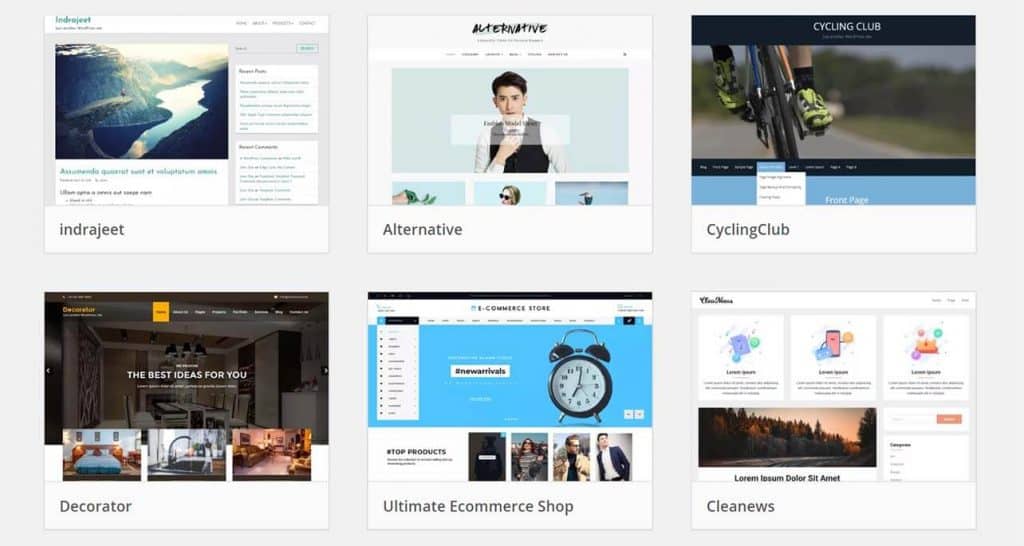 In the end, your expenses depend a lot on what kind of site you want to build. Check our article on how much does a website cost? for more details.
Website Setup and Management on WordPress.com vs WordPress.org
Even though a hosted and a self-hosted site are built on the same software, there are still vast differences in site setup, management and maintenance.
WordPress.com
To create a website on WordPress.com the only thing you literally have to do is set up an account. If you can sign up for Facebook, you can create a blog on WordPress.com.
Everything else is done for you. Hosting is included and your site created automatically. No need to fiddle with an FTP server, hosting control panel, database or anything like that. You can jump right into customizing your site and creating content. The technical parts are taken care of for you.
WordPress.org
Creating a website with WordPress.org, on the other hand, is a little more complicated. Here are the steps:
Download the software from WordPress.org
Create a database in your hosting account
Unzip and upload WordPress to your server
Run the installation script (also called the 5-minute install)
We also have a detailed guide for it.
If you are a regular user of computers and technology, you should have no problem accomplishing it. Sure, it takes longer than WordPress.com, but you can still get it done in 15 minutes.
What's more – many hosting providers (like Bluehost) offer one-click WordPress installation. This makes the process much simpler and quicker.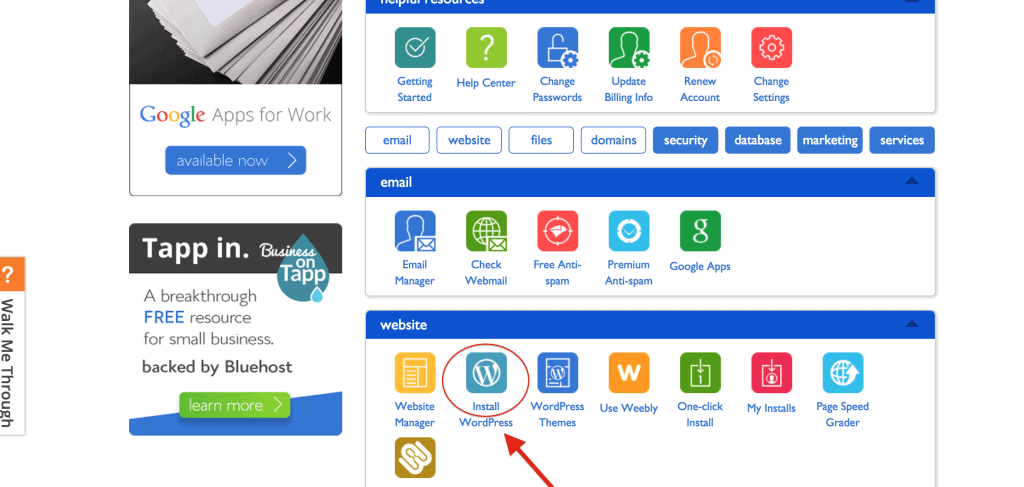 Website management is a lot more responsibility with a self-hosted site. You need to take care of maintenance and learn how to speed up your site, do database cleanups or other similar activities.
If you don't want to bother with that, there is even a further option: WordPress managed hosting. You will have a similar experience as on WordPress.com, having a complete control over your site's look and functionality while someone else takes care of the technical side of things like backups and security.
Customizability and Control Options for Each Platform
When you build a website, you often have very specific ideas about what it should look like and be able to do. WordPress is generally very customizable and gives you complete control over every aspect of your site. How much of this you can take advantage of depends on where you host your site.
WordPress.com
WordPress.com has a number of plugins and features built in. These include statistics, security, social media, forms, backup, spam protection and much more.
Bare in mind that the lower-tier plans limit you to these default features. To extend your site with third-party plugins, you need to opt for the Business plan. This possibility has only been around since August 2017, before that it didn't even exist.
The same is true for other external services. For example, if you want more than WordPress.com's tracking, such as Google Analytics, you also need to pay for that option.
For themes the situation is similar. On lower plans, you are stuck with the available free themes (there are currently 91) and only get access to the premium themes (about 200) starting with the Premium plan. At that point you also unlock advanced design options such as custom CSS or custom fonts.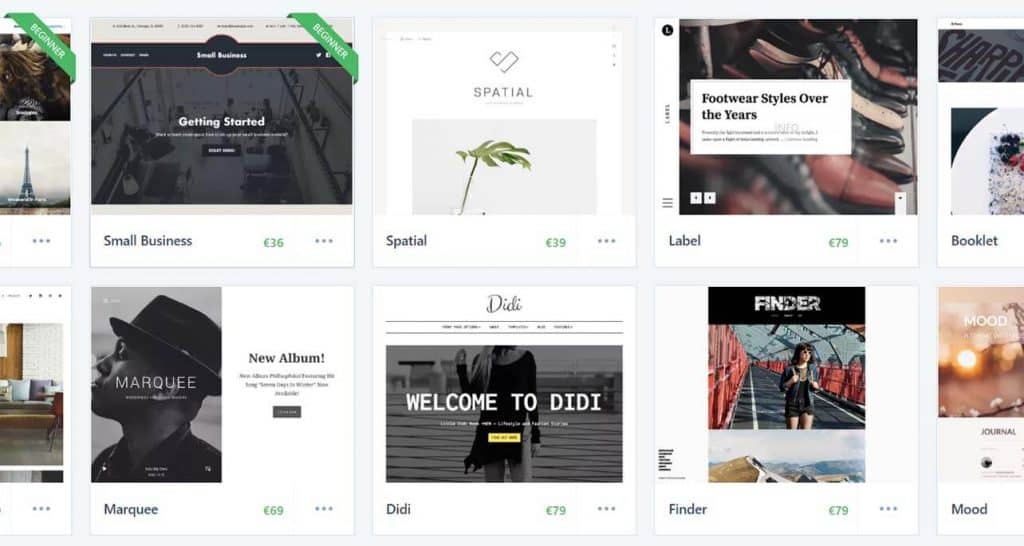 WordPress.org
When it comes to customization, the experience on WordPress.org is very different. With a self-hosted WordPress site, you are free to add any theme or plugin to your site you want – be it free, paid or custom-made.
The WordPress directory alone contains thousands of themes and tens of thousands of plugins to choose from. Plus, there are many more premium offers and you can also hire a web developer to build custom functionality for your site.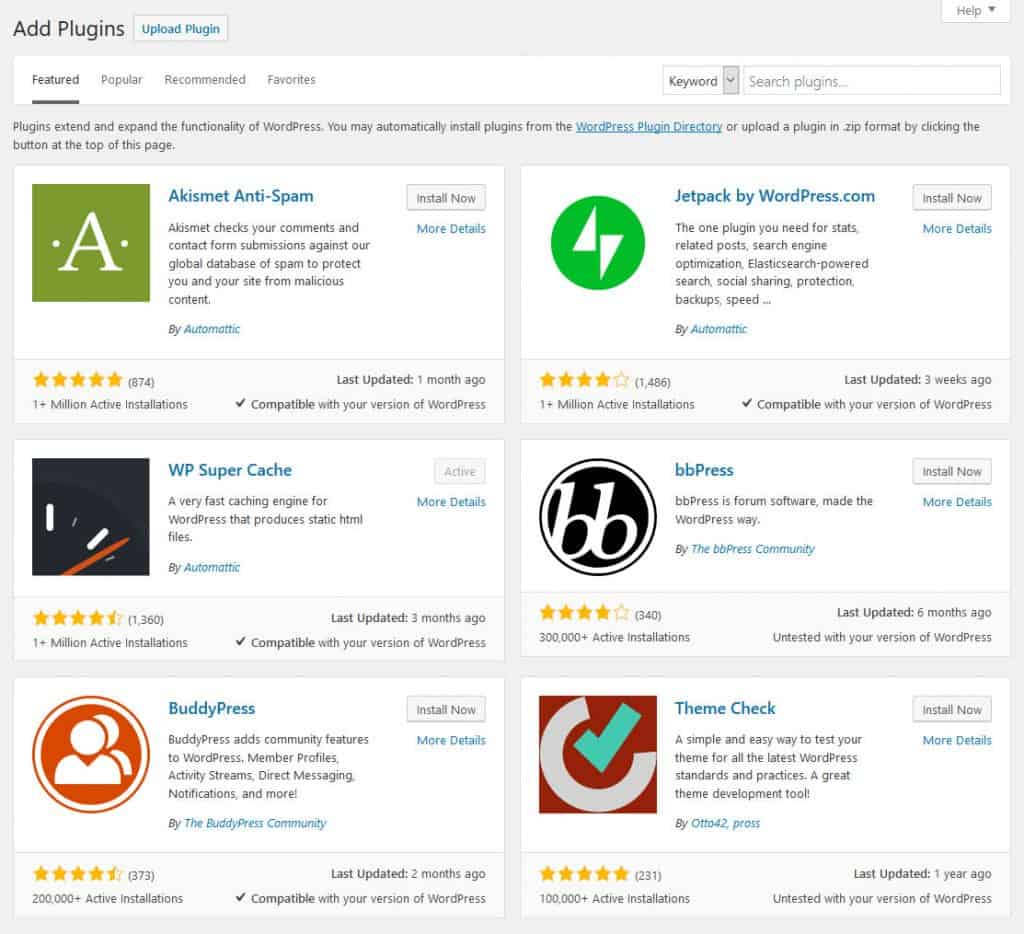 Additionally, you may also implement as many design changes as you want (for example, custom fonts) by editing your files and database directly. You can even create your own theme from scratch! Nothing is off-limits, including third-party software.
In short – you are able to take full control of the look and capabilities of your website. At the same time, nobody will look over your shoulder! Anything you upload to your site happens at your own risk and is not vetted beforehand. Therefore, you need to try and evaluate each extension beforehand and be sure to use trustworthy vendors.
How WordPress.com vs WordPress.org Handle Security and Updates
Security is an important topic for website owners. Anything connected to the Internet has at least some risk of being attacked. While WordPress is very secure, there is more to WordPress security than relying on the developers. You will have to deal with more or less of it depending on which WordPress version you choose.
WordPress.com
As mentioned, the good thing about a WordPress.com website is that you don't have to deal with the technical aspects. That includes security.
Protection from hacking and spam, updates, site optimization and backups are all taken care of. All you need to do is deal with your site. Even if you wanted to mess things up for some reason, WordPress.com is such a closed system, you don't have the means to do so.
Of course, this is good for beginners and those who don't want to have to think about security beyond their own password at all.
WordPress.org
With a self-hosted WordPress site, the responsibility for keeping your site safe rests solely on your shoulders (in case you haven't noticed it, this is a common theme when talking about WordPress.com vs WordPress.org).
Your hosting provider needs to make sure the servers are safe. For example, keeping your site up to date (including themes and plugins) is completely up to you. Only critical security updates are applied automatically unless you switch this feature off.

The same goes for more advanced security measures such as fighting spam, backing up your WordPress site and dealing with site performance.
The only way around this is to outsource security to a managed hosting provider. They, too, take the technical side completely off your hands, so you can concentrate on content creation and increasing traffic.
Support and Troubleshooting for Hosted and Self-hosted WordPress Sites
Especially for beginners, having a support structure in place is critical. You need someone to turn to for problems, issues and questions. In that matter, WordPress.com and WordPress.org have different approaches.
WordPress.com
Being a commercial organization, WordPress.com offers a multi-layered support architecture:
Free plan – The basic plan gives you access to the community forums where staff members, volunteers and other users will answer your question. You can search for everything from existing solutions to anything you encounter. There is an extensive help section.
Paid plans – You can receive support through email and live chat. Paid plans also include initial help to set up your site.
WordPress.org
In contrast to that, support for your own site is your own responsibility (again). That doesn't mean you are on your own. There are many places that you can turn to:
Support forums – Self-hosted WordPress also has support forums, where volunteers and other users answer your questions and help you out.
Documentation – The WordPress Codex and developer handbooks contain detailed information on how WordPress works.
Blogs – There are also many sites like Website Setup which publish free information on common WordPress problems. For that reason, if you run into an issue, you can often find solutions via Google.
Freelance developers – Due to the popularity of WordPress, there are many people out there who work with the platform professionally. Therefore, if you ever run into something you can't solve or implement on your own, affordable help is within reach.
Aside from that, the WordPress software itself is well maintained and supported. Updates come out every few months with new features and improvements. In between, maintenance and security updates are released if necessary and applied to your site automatically.
How Do WordPress.com vs WordPress.org Handle SEO and Marketing?
Marketing your website is a crucial part of its success. If you plan on making money with your web presence, you need to build traffic. Important avenues to do so are search engine optimization and social media. The two platforms differ.
WordPress.com
Since WordPress.com is based on the WordPress software, it comes with all the SEO benefits inherent to the platform. For example, custom URLs allow you to include keywords in your page and post addresses.
In overall, WordPress takes care of the majority of technical SEO, especially since all themes on WordPress.com are SEO optimized. Additionally, the service also produces an XML sitemap and notifies Google of any content updates.
Besides that, you get basic stats on traffic so you know how things are going. You can also connect your WordPress.com site to Google Search Console for advanced information.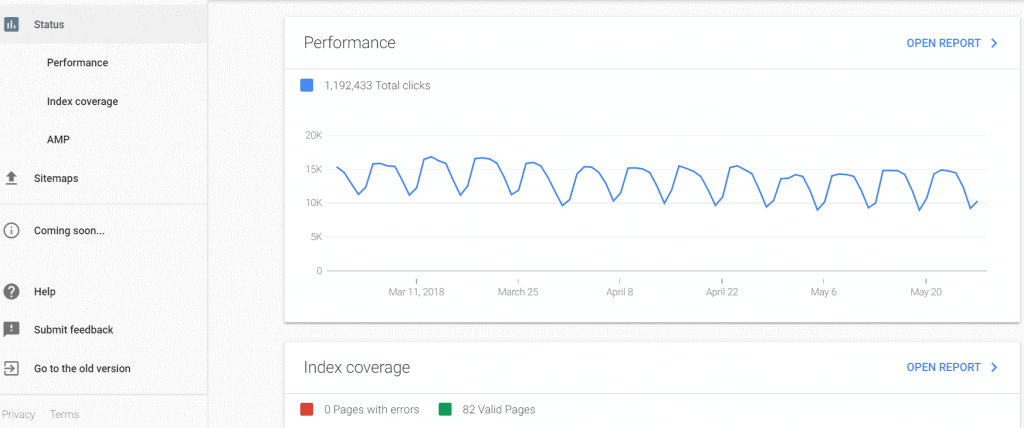 Furthermore, WordPress.com integrates with social networks by default. You can use Jetpack Publicize to automatically share your new posts on social media (this is also available to self-hosted sites). The content is also configured to look good on social media.
On WordPress.com, your site is part of a large network of blogs where people can follow you. You might even get featured and gain additional traffic that way.
Besides the features mentioned above, you don't have much control, at least on lower plans. On the free plan, you are also stuck with a WordPress.com subdomain, which neither ranks very well nor does look professional.
For more advanced SEO tools, you need to change to the Business plan. Here, you can set meta descriptions, custom title structures and custom design for social shares.
If you are already on that plan, you are probably better off installing a WordPress SEO plugin like Yoast SEO. This gives you a lot more control over every aspect of on-page optimization. It even instructs you on how to create optimized content.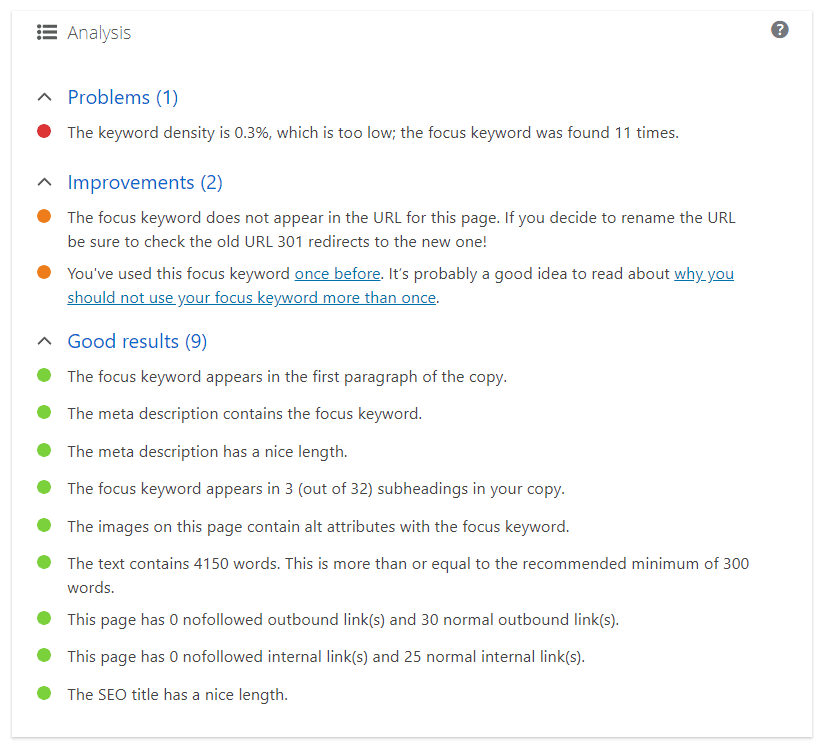 Combined with Google Analytics (which you can also install on the higher tier) this will take your SEO to the next level.
WordPress.org
Since self-hosted sites are based on the same software as WordPress.com websites, they come with all the benefits listed above. Additionally, you have a lot more options from the start.
For one, you can install any SEO plugin you want to help you rank better. You may also use Google Analytics and other tracking services for more detailed information without having to pay extra. You can also install third-party software e.g email marketing services for advanced marketing measures.
Aside from that, with a self-hosted site, you have your own custom domain from the start. This is an important branding tool that helps you build an identity. If you pick the right one, this can greatly improve your SEO as well and help you rank much better than any WordPress.com subdomains.
Differences in Site Monetization
In most cases, when starting a website, you plan to earn money with it in one form or another. Depending on whether you use WordPress.com or WordPress.org, the possibilities for that are different.
WordPress.com
As mentioned in the beginning, one of the main differences of WordPress.com vs WordPress.org is that the former is a commercial company. As such, they need to finance themselves (and make a profit).
One of the ways they do that is by displaying advertisement on all free websites. That means your visitors see ads that you can neither control nor earn money from. It's not very good for user experience and one more reason why a free WordPress.com site is not suitable for professional purposes.

At the same time, you are not allowed to run ads yourself. Only if you bring in significant traffic (or sign up to a Premium or Business plan) can you share revenues via the WordAds program and use other networks like Google AdSense and BuySellAds.
Also, because of the limited customization options, you are not able to build a membership site or similar online community for recurring income. While it's possible to build an online store, you can only do so with WooCommerce on the Business plan. Below that, you are limited to using the PayPal button.
Affiliate links are also allowed on WordPress.com, as long as your site does not "exist primarily to drive traffic to affiliate links". Similar rules apply for sponsored posts. We will soon talk about this issue.
WordPress.org
With a self-hosted WordPress site, you can monetize your site in any way you want. For example, you are able to build an online store to sell digital and/or physical products and accept payments directly on your site.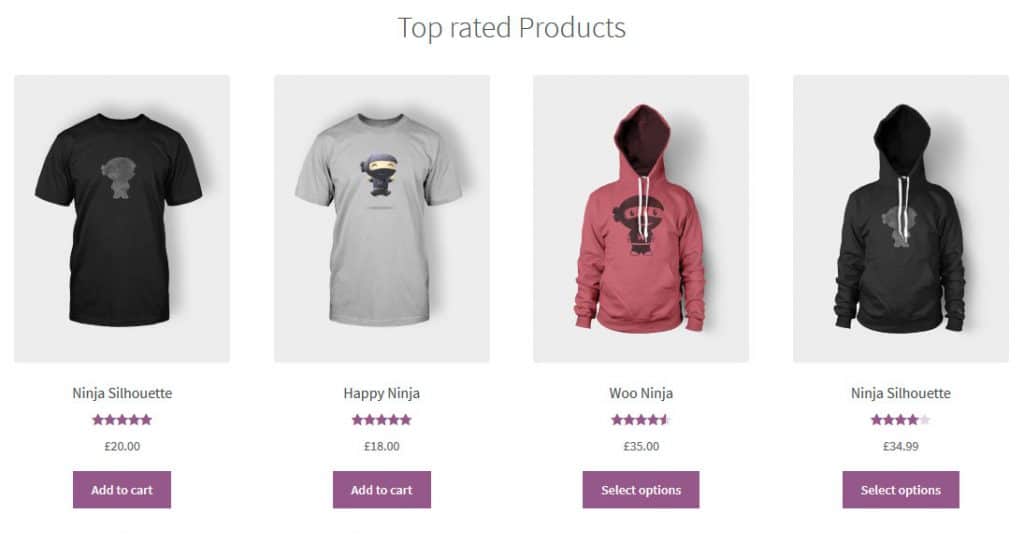 Other options for monetization include everything you are unable to do on WordPress.com. That means running ads, creating a membership site, putting together online courses or filling it with affiliate links. Anything is possible!
The most important part is: Whatever your site earns is yours to keep, you don't have to share it with anyone. That means all your hard-earned traffic is for your own benefit.
Content Copyright and Ownership – WordPress.com vs WordPress.org
Content creation takes a lot of time (just ask me how long I've been writing this article). It's worth it if you are in control of what happens to it so you can take advantage of the results.
WordPress.com
While on WordPress.com, the copyright for your content is yours, you do not have ultimate control over it. As a commercial entity, the platform comes with its own terms of service. If they think you violate those terms, they are able to delete your website without you being able to do anything about it.
It has happened in the past and will probably happen again. Sure, there are often good reasons for deleting people sites and you agree to their terms when you sign up. Just keep in mind that in the end, it's up to them to decide whether or not you are in violation of them.
For someone who wants to earn money from their website, that's a scary thought. Does it mean if you put one affiliate link too many your site will disappear from one day to the next? I don't know, but do you want to find out?
Aside from that, websites on lower plans by default contain a "powered by WordPress.com" link. You can only get rid of it by switching to the Business plan. While there are good reasons to keep it (many people do the same for WordPress.org), it's nice to have a choice, isn't it?

WordPress.org
With a self-hosted site, you own your site and content completely. Unless you do something illegal, nobody can just take it offline because they don't like what is on there. You can experiment with affiliate links all you want, the only ones who will decide if it's going too far are your visitors.
Plus, with a self-hosted site, you have the ability to back your site up to an off-site location. That way, even if something goes wrong that takes your site off the net, you can recover it later. On a closed platform that also controls your backups, you are essentially powerless.
WordPress.com vs WordPress.org – What's the Right Choice?
As you can see from the above, the two platforms have quite a different approach. For that reason, they are also suitable for different user groups.
For personal blogging, if you want to create some content for your family or if you simply need a static website, WordPress.com is completely sufficient. It might also be a good option if you want to build an enterprise site and can afford their VIP package.
The Business plan also offers a good mix of the comfort of WordPress.com and the flexibility of a self-hosted WordPress website. If that is worth the price for you, by all means – go for it!
However, for most people who want to use WordPress in any professional capacity, the self-hosted variety is probably better. Many of the advanced features on WordPress.com are by default for WordPress.org. The price you pay for them on the hosted variety usually goes a lot further with a self-hosted WordPress site.
Additionally, even if your initial goal is just to try things out, with WordPress.org you can always change your mind. You already have the infrastructure in place and can simply scale up from there without automatically paying more.
Moving From WordPress.com to WordPress.org
Do you feel like you made the wrong choice after reading the above? Do you wish you could move to WordPress.org now? No worries, it's absolutely possible but involves a few steps;
Get hosting (for example sign up with Bluehost)
Export your WordPress.com content (Settings > Export)
Import it to your self-hosted WordPress site via Importer plugin
Redirect visitors from hosted to self-hosted WordPress site (paid service on WordPress.com)
Check out this detailed article for the finer points.
Wrapping up
The question of WordPress.com vs WordPress.org naturally pops up when you are first starting out. While they might seem like the same, it turns out they are only related. The key difference between WordPress.org vs WordPress.com is where your site is hosted and thus the amount of control you have over it. Depending on your goals, that makes a huge difference.
In overall, you are quite limited on WordPress.com unless you pay for advanced features. Hosting your site there makes it easier to get started and takes care of many things related to site maintenance and security.
On the other hand, with a self-hosted WordPress site, you have full control over every aspect of it from the get-go. That way, you can maximize the potential of your website. With control also comes responsibility. It's up to you to educate yourself on how to properly run and maintain your website.
Considering that you are on this website, I would say you are already taking the steps towards the right direction. If we can help you any further, please don't hesitate to let us know!
What are your thoughts on WordPress.com vs WordPress.org? Do you have any questions? Let us know in the comments section below!