TL; DR: Atlantis is a standalone word processor for Microsoft Windows that is customizable, compact, and requires minimal system resources. The unique tool boasts many features, allowing users to create ebooks, save backup files, and work in a distraction-free environment, among other perks. As Atlantis prepares to celebrate 20 years in the industry, the company is using its experience to fuel future developments to the benefit of its customers.
Around 360 B.C., the Greek philosopher Plato wrote about the demise of Atlantis, a mythical island swallowed by the sea in an act of supernatural revenge upon corrupt, greedy civilians.
More than 2,300 years later, an international team of developers released the Atlantis Word Processor with the intent to free people from Microsoft Office's monopoly on word processing. The affordable alternative is something Plato — known for his concern over wealth gaps between the rich and poor — may have turned to were he writing Socratic dialogues today.

"Back in 2000, the market for office applications looked very different than now," said Taras Push, Founder of Atlantis. "Users did not have much choice but to stick with the few offered solutions. We believed that giving users more options was very important."
The team behind Atlantis didn't want to create a Microsoft Word clone: It wanted to create something better. "There is always room for improvement, always things ignored or overlooked by others," Taras said. "The key is to explore traditional ideas from a different angle."
Today, Atlantis has grown into a credible, standalone alternative for Microsoft Word that can be customized to the preferences of individual users. Unlike larger companies, Atlantis has the freedom and flexibility to change its road map to better serve its customer base, whether that means adding new features or tweaking existing ones. Now, as Atlantis prepares for its 20th anniversary, the company plans to wow customers with continued improvements over the next two decades and beyond.
There's no denying the industry's ongoing shift toward cloud-based and mobile applications, but the Atlantis team isn't threatened by change.
"There is a tendency to replace applications that users can buy and own with Software-as-a-Service (SaaS), but we believe that traditional word processing applications will play an important role in the foreseeable future," Taras said. "Many users still prefer to own their tools, not rent them, and not everyone would agree to trust their personal documents with cloud services."
Atlantis is fully portable when installed on a memory flash drive, as long as the host computer runs on Windows 2000, XP, Vista, 7, 8, or 10. As of June, Atlantis can also run on Linux using Wine, an open-source app capable of installing and running Windows applications on several POSIX-compliant operating systems.

According to Taras, Atlantis is also a viable option for users with varying computing resources, from old laptops to advanced 4K systems. It does not require third-party software, can be used on devices equipped with operating systems as old as Windows 2000, and runs well on 32-bit and 64-bit versions of Windows.
Although Atlantis is exceptionally compact (the setup file is a mere 3MB), the software includes English spell check dictionaries and hyphenation modules, typewriter sounds, a collection of document templates and clips, and high-resolution icons, among other features. It also remains fast in spite of a minimal memory footprint.
The company offers both a free download in Atlantis Word Processor Lite and a full version, known as Atlantis Word Processor. The full version has several extra features, including additional document views, dedicating publishing tools, and an entirely customizable graphic user interface (GUI).
Almost every part of the GUI — including themes, toolbars, shortcuts, the document bar, and the status bar — can be adjusted to individual preference. For example, add-on spell-checkers allow users to polish their writing in a variety of languages. In addition, users can choose from a variety of built-in color schemes or create their own to personalize the Atlantis GUI. Finally, users can customize the sounds associated with several notifications by using the word processor's native schemes or downloading additional ones from the Atlantis site.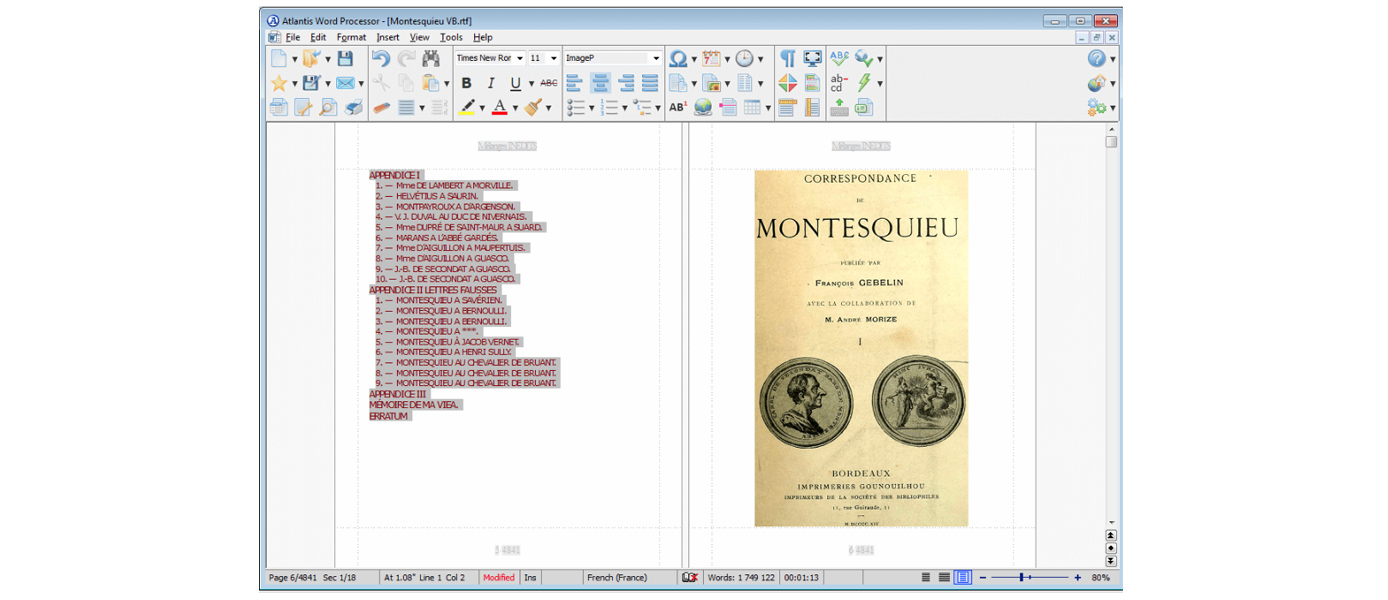 "No other word processing application can be tailored so much to work and look your way," Taras said. "For many users, it is very important to have a working environment which is familiar, convenient, and fits their needs."
Taras told us that perfectionism is one of the company's fundamental tenets; thus, the team is laser-focused on every last detail. "Things that might seem minor or cosmetic to others — like distances between GUI elements or phrasings used in dialog boxes — can trigger emotional discussions among developers," he said.
The company also strives to ensure compatibility with Microsoft Word formats and features. Because Atlantis does not have a proprietary document format, it works equally well with formats such as RTF, DOC, and DOCX.
When Atlantis launched its software in 2000, few dared to compete with Microsoft Word. Today, the market's a bit more crowded.
"Users have a wide choice of word processing applications, from free to paid, stand-alone word processors to office suites, traditional software to SaaS," Taras said. "When there are so many options to choose from, even relatively minor features or other aspects of software can be a reason to switch to a different product."
When choosing a word processing tool, Taras advises users to consider the look and feel, speed, customizability, compatibility, technical support, and update policies, among other aspects of the product. To allow customers to vet Atlantis before purchase, the company offers a free 30-day evaluation period on the fully functional product.
"Our word processor is offered as a try-before-you-buy product," Taras said. "Before making a decision, users can look at the product from different angles without a rush."
Ultimately, Atlantis aims to offer a product so robust that it satisfies the needs of the broadest range of customers possible. To that end, Taras said the company prioritizes user feedback. "Users can speak directly to developers and significantly influence the project," he said. "With products developed by big companies, the decision-making chain is much longer, and for ordinary users, it is much harder to influence the product's future."
Taras said that, of the key features of the word processor, eBook creation was added after a single request from one of the company's customers. With this feature, users can save any Atlantis document in EPUB, a format that is supported by Nook and iPad; or MOBI, the standard format for Kindles.
Taras told us the company's agenda is full for the foreseeable future. The company frequently releases new features as part of its commitment to continuous improvement. "With each new release and each new feature, the product gets better," he said.
The company also has some celebrating to do as it hits a 20-year milestone in 2020. But that doesn't mean it will be slowing down any time soon.
"There are plenty of things on our to-do list, and we have plenty of ideas for years to come," Taras said.
Was this helpful? Tell Us Thanks.
About the Author
Christine Preusler, a full-time Contributing Editor at HostingAdvice.com, covers the hosting and technology space through in-depth feature articles and interviews with the biggest names in the industry. With more than a decade of experience managing and publishing print and digital publications, Christine leverages her communications skills to keep readers up to date on the latest web hosting services and innovations. Her goal is simple — to distill complex hosting concepts into clear yet thought-provoking narratives suitable for developers and tech newbies alike.